Copenhagen Gate has been designed to help you and your company do business in Scandinavia. You could be a service provider in Estonia, a technology company in Croatia or, a Scandinavian company wanting to expand your business in other Scandinavian countries.

---

Our company is based in Copenhagen, Denmark. Sweden is only 15 minutes away by car, six hours to Oslo.
Scandinavia is commercially a very interesting region, comprising the three countries Norway, Sweden and Denmark. The combined population is around 20 million, the purchasing power is among the highest in the world and we have a very sound business environment. A company can be established in a few hours, online, we have a business friendly legislation and technologically advanced consumers and businesses. Infrastructure is good and the political systems are robust and reliable.
So let me tell you what we can do for you. Our business model is designed for flexibility. We can co-invest with you in a new company, we be plainly sell your products and services or we can act as your agent. We can also help manage your business unit here, or sit on the board..

---

Our company is driven by a small team in Copenhagen. Our strengths are a very strong network throughout the region, deep market understanding and strong strategic and sales/marketing capabilities. We partner with people and companies who can step in on demand. We are lean and our cost base is moderate. We are here to make money for you and for us, not to pay tons of overhead. We are selective and we want to produce strong business results.
Thank you for taking the time to read about me. I will try to invite you inside.

---

I live in Copenhagen, the capital of Denmark. I was born in Oslo and lived the first 26 years of my in Norway, before moving to Denmark. During my time in Oslo, I spent five years in my first job in a financial agency.

---

I am married to Sisse and we have two wonderful girls. Our family values are much the same as our business values. We work hard, try to have a lot of fun, aim to please and help each other with all kinds of tasks. We achieve a lot when we go for a long walk talking, or if we sit around a table enjoying a well cooked meal.

---

I cherish challenges, and my business life has brought ups and downs, champagne and bruises. I am old enough to have experienced the horror of two financial crises and have learnt a lot from both of them. I started my own company when attending Copenhagen Business School. I worked a bit for General Motors, had a consulting assignment at the Winter Olympics in Norway in 1994, had sales assignments for a Norwegian company and then started to focus strongly on India. I worked with India for almost four years, advising Scandinavian companies about business opportunities in this massively exciting country.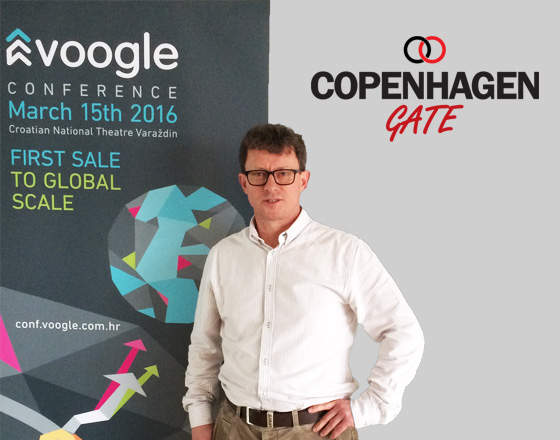 If you have read the book The Black Swan (a good read) you will know how unexpected events can have dramatic consequences. Two nuclear tests on the Subcontinent effectively ended my India business, as all credit lines to India were abandoned. I sold the rest of my business and started a career in Dell.

---

I will always look back at my seven years in Dell as extremely valuable. Every day I apply practices I learnt there, be it in sales, marketing, financial management or basic execution. From Dell I went on to work in aerospace, in a spare parts company named Satair. I worked on global project management, strategy, M&A, communication and Investor Relations. When we sold the company to Airbus (the aircraft manufacturer), I spent one year working on integration and communication for the combined entity.

---

I returned to my consulting business and helped smaller companies with growth strategies. What a contrast to Airbus and Dell! I find a lot of value in taking practices from top class companies and develop smaller ones. I went on to work as a CCO in PurePharma, a Copenhagen-based global supplier of vitamins and minerals, and I was responsible for sales and marketing on 25 markets.

---

In November 2015 I decided to set up Copenhagen Gate, and my focus is now to help companies like yours into Scandinavia. Having worked in this region for 25 years, and benefitting from a huge professional network, I believe we can help companies with a strong value propositions to make a success here.

---

Outside of work I really like to get on my bike and explore the Copenhagen region. I also love to unplug and find rest with my family in our summer house on the south coast of Denmark. When you learn to know me, you will also know that football, and one club in particular, is a huge part of my life. Ups and down here as well.

---

Thank you so much for reading this and visiting our web site. I will only look forward to meeting you.